Babes & Gents has all the whimsical handmade items to dress your Babe or Gent.
Current Coupon Code: TIEDRIBBON for 20% off your purchase!
Tara Brooke is an amazingly talented beautician. She loves everything that has to do with beauty. Hair design, fashion styling & make up artistry are just a few of the things she offers. Visit her site for photos, blog & contact info for local Utahns.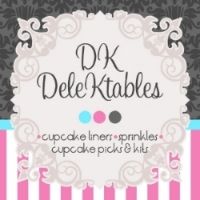 DK DeleKtables are run by Deann & Kathy. I used them for Clayton's first birthday & can't say enough good things about them. Seriously a

one stop shop.
They carry baking and party supplies from banners to zebra toppers, they've got it covered & for amazing prices too! (Trust me, I did my research)
Jess blogs about being a wife & a mama. She was once a military wife & is currently a working mom in Utah, so she has funny story, heartfelt stories & amazing life lessons we can all learn from.